18 Dec 2012
Google has many services gmail is one of them. Gmail is the most popular email service provider on the internet. Gmail's web interface is both fast and rich that's why most people use this service and most of the website support gmail address to register their site. If you live in the USA or Canada you can call free inside this country by using Gmail and called other country by lower cost.
How to Make a New Gmail Account:
Open any web browser and go to the gmail.com site. Click "Create An Account" button in the lower-left corner of the screen.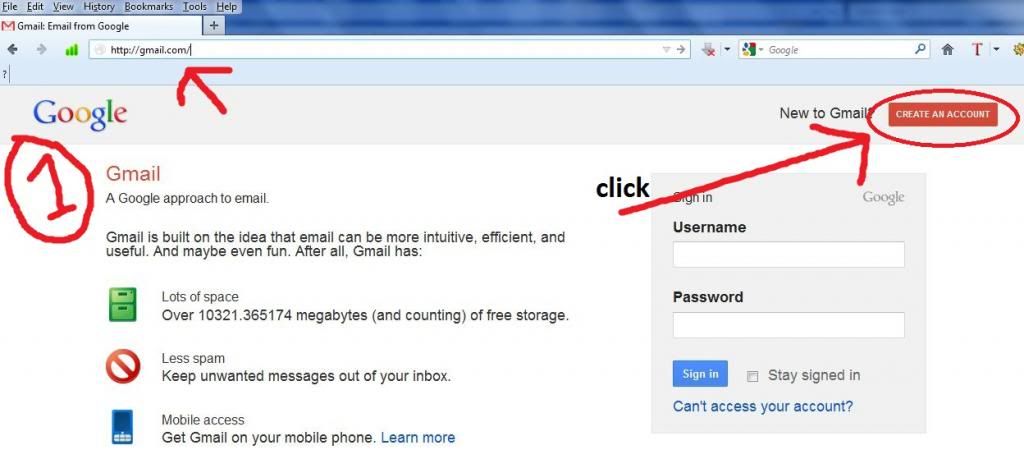 Then you see a Form like below. Fill up with this form –

Type your First name and last name in the "Name" field.
 Type your username, which will be your email and login address and it must be unique in the "Choose Username" field.
Enter the password you want for you're a new gmail account, which is needed for login. You must enter it twice in the "Create a password" and "Confirm your password" field. Password must be at least eight characters.
Select your birthday and gender in the "Birthday" and "Gender" field.

Enter your phone number and current email address in the "Mobile phone" and "Your current email address" field. This field will help you recover your gmail account when hacked or forget the password.
Type the Captcha code in the "Type the two pieces of text" field as you see it. This code case sensitive.
Choose your country in the "Location" field and select the "agree to the terms of service". Then, click the "Next Step" button.

Then, you see like this image below. Where you find your email address. Then, click "Continue to Gmail" button to enter the gmail account.

How to sign in and sign out from Gmail accounts:
It's very simple. If you don't know how to do it. Just follow this step below:
Sign in:
Open your web browser  and go to the gmail.com site. Then enter your email address and password in the "username" and "password" field. Click the "Sign In" button.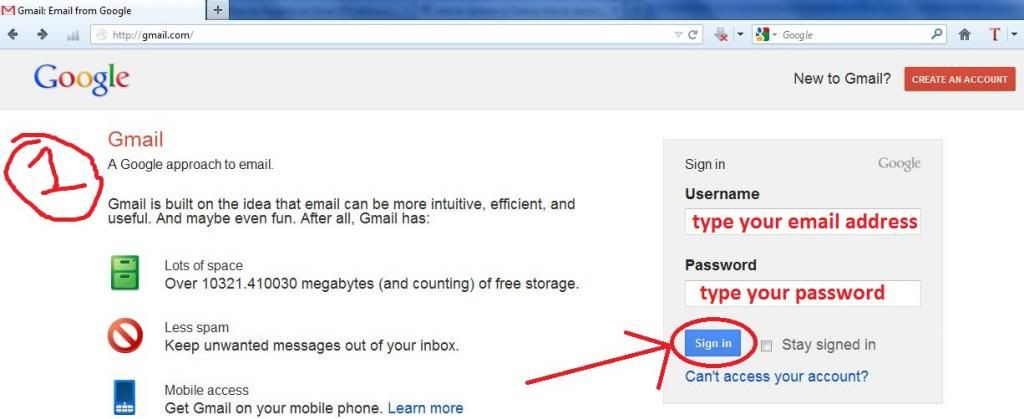 After Sign into your gmail account you see images like this image below.
Sign Out:
Click  grey arrow in the above-right corner of the screen. And then click the "Sign Out" button.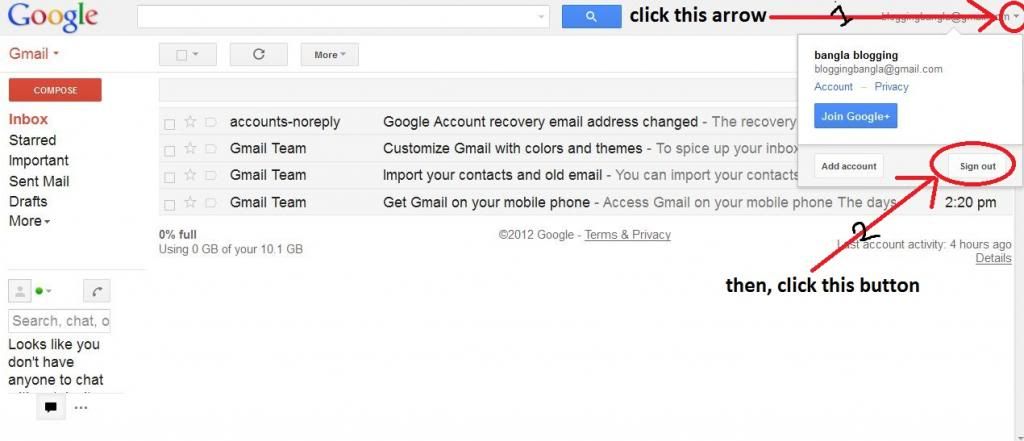 How to send Email:
Sign In your gmail account and then click red "Compose" button in the above left side of the screen. Then, you see compose box, like this image below.
In the "recipient" field input your message's recipient's email address (where you want to send email), in the "Subject" field type your subject name (A brief summary of the topic of the message) and in the blank field write your message and then, click "Send" button.
Note: If you want to change the text format, attach files, insert photo, insert link inside your mail see this image below.