TeamViewer is proprietary software, which provide free or paid package application on the computer for remote control, desktop sharing, peer to peer, online meetings, web conferencing and file transfer between computers. The software runs on Microsoft Windows operating systems, OS X, Linux, iOS, Android and Windows RT. You can log on to a computer running TeamViewer with an Internet browser. While the main focus of the application is the remote control of this computer, includes collaboration features and presentation.
TeamViewer Software Download and Installation process:
Open your Web browser, then type

http://www.teamviewer.com

in the address bar and press the ENTER Key. After TeamViewer home page is displayed, click "Download" button.
After complete the download, double click the 'TeamViewer_Setup.exe' file to start the installation process, where your download file was saved.
In the TeamViewer Install window, click "Next" button and then click "Yes" button.
Choose 'personal/non-commercial use', because we use the free version. Then click "Next" button.
Check mark the 'I accept the term' and 'I agree that I will only use' box and click "Next" button.
Then, select 'No (default)' option and click "Next" button.
Wait a few seconds to complete the installation process and then you see a TeamViewer Software interface.
Connect Remote Computer:
After complete your TeamViewer installation process and then, you ready to connect your remote computer. Before trying to connect targeted remote computer, you must ensure that remote computer have also installed 'TeamViewer software'. You need also remote computer TeamViewer "ID" and "Password" to successful connection.
To connect your friend's or relative computer via TeamViewer to using the Internet, follow the below tutorial step by step:
Open your teamviewer software from the Desktop and input remote computer teamviewer ID in the 'Partner ID' field and then click "Connect to partner" button. For example, I input '12345' partner ID. [note: this is the 2nd computer partner ID]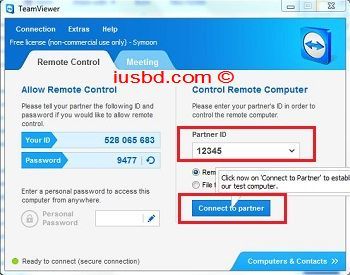 Then you see a popup like this image below and give your remote computer teamviewer password in the 'password' filed, then click "Log on" button. For example, I give '6378' password. [note: this is 2nd computer password]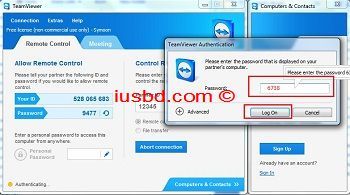 Now you see your friend's computer screen.