20 Dec 2012
 Yahoo mail service is another popular in the internet. Yahoo Mail is common e-mail program on the online and also mobile phone devices with unlimited storage space, SMS text messaging, social networking and instant messaging to boot.
How to Make a New Yahoo Mail Account:
Open your web browser and go to the yahoomail.com site. Click "Create an Account" button in the lower-right corner of the screen.
You see a form like image below. Fill up with this form:

Type your First name and last name in the "Name" field.
Select your gender, birthday, country and language in the "Gender", "Birthday", "Country" and "Language" field.
Type your username in the "Yahoo ID and Email" field. Which will be your email and Yahoo ID address and it must be unique.
Enter the password you want for you're a new yahoo account, which is needed for login. You must enter it twice in the "Password" and "Re-type Password" field. Password must be at least six characters.
If you have any email address then enter it in the "Alternate Email (optional)" field. Otherwise leave it.
Select two security questions in the "Secret Question 1" and "Secret Question 2" field that only you can answer. Give your answer in the two "Answer" field. If you forget your password, you will be asked these questions of safety. So, store your answer record in safe place.

Type the Captcha code in the "Type the code shown" field as you see it. This code case sensitive. If you cannot read or understand the Captcha code, then click "Try a new code" to display a new one.
Click the "Create My Account" button to finish your registration process.

After completing the registration process you see a confirmation page like this below. Save the page on your computer, or copy the details. Keep your information in a safe place. Then, click "Continue" button to enter your yahoo mail account.
How to sign in and sign out in Yahoo mail Account:
Open your web browser and go to the yahoomail.com site. Then enter your email address and password in the "Yahoo!ID" and "Password" field. Then, Click the "Sign In" button to enter you mail account.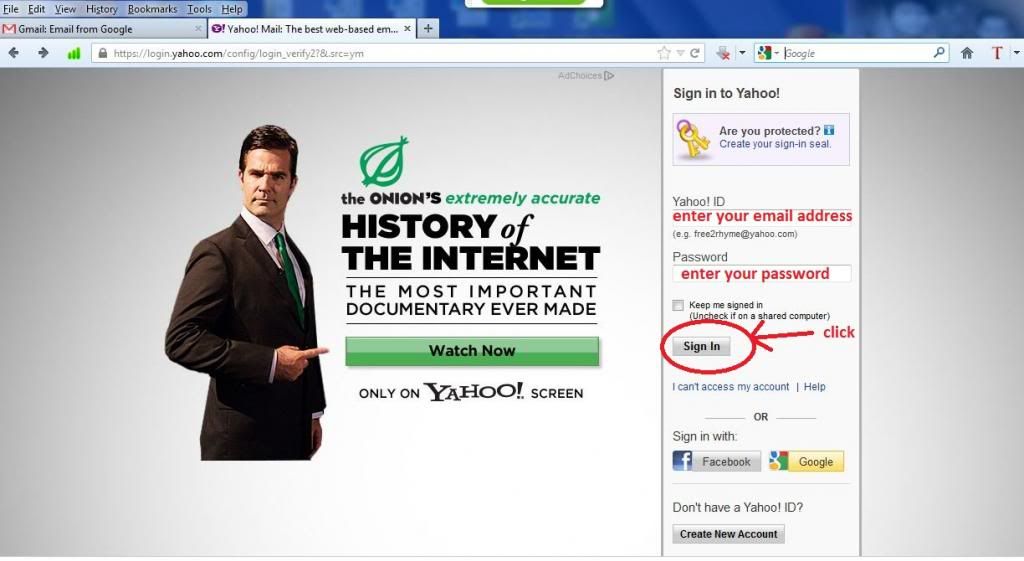 After Sign into your yahoo account you see images like this image below.
Sign Out:
Click in the above-right corner of the screen. And then click the "Sign Out" button. See image below-
How to send Email:
Sign In your yahoo account and then click purple "Compose" button in the above left side of the screen. Then, you see compose box like this image below.
In the "To" field input your message's recipient's email address (where you want to send email), in the "Subject" field type your subject name (A brief summary of the topic of the message) and in the blank field write your message and then, click "Send" button.